Kitekahunas - Learn Wave Kitesurfing: Lesson 11
How to Jibe: Advanced jibe
Why purchase this wave kitesurfing video course
This course will help you to learn and master wave kitesurfing fast. Watch your video lessons before your kitesurfing holidays and before you go on the water. An intermediate freeride kitesurfer is as little as 10 days practice away from being a wave kitesurfer! With these tutorial wave kitesurfing videos ...

... You will learn much faster and then enjoy wave kitesurfing much sooner.

... You will not learn the wrong movements, which are later very difficult to correct and un-learn.

... Importantly, with the right posture and movements, you will look much more stylish on the water.

... People will admire you, and your wave kitesurfing photos and videos in the waves.
Imagine how easily you spend USD 100 or 200 on a week-end out. These are the best wave kitesurfing tutorial videos available, and purchasing this wave kitesurfing video course is an investment for your life-time. Please support yourself and us, so we can produce more of these videos.


KITEKAHUNAS - Learn Wave Kitesurfing. A video course from Kitekahunas on Vimeo.
Rent this Lesson for 1 week for only $ 9.95 or rent all for only $ 99.95. Buy for life-time for $ 199.95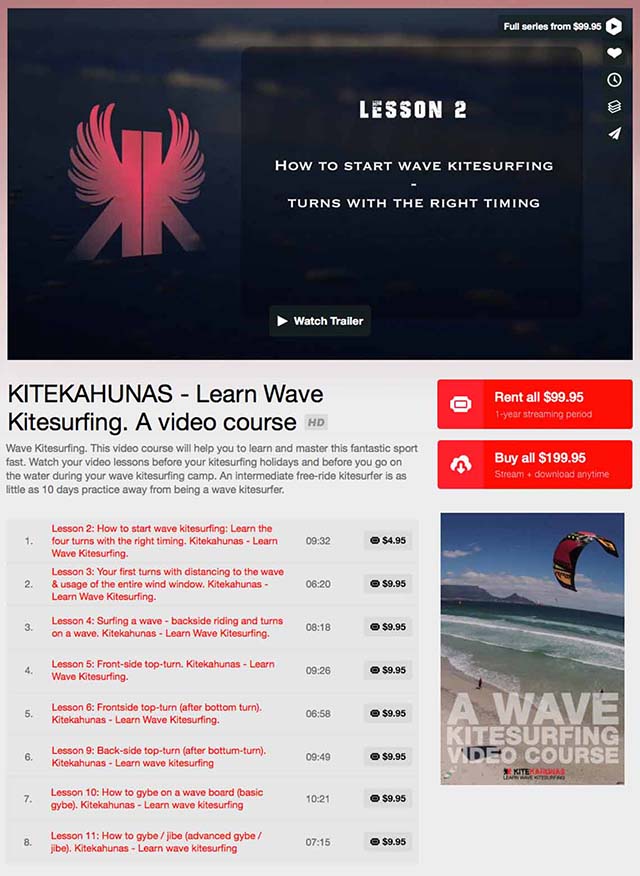 Only for private use. If you want to use it commercially, e.g. in your kitesurfing school, please book it from us >>
What you get when you buy all lessons:
- Stream and download all videos anytime: Lessons 1, 2, 3, 4, 5, 6, 9, 10 and 11
- You will also get all new wave kitesurfing Lessons we will produce in the future
- Watch on TV, laptop, mobile and tablet
- Download ALL Lessons (SD, HD and mobile files) and view them conveniently during your holidays or on the beach, without the need for an internet connection.


What you will learn in this lesson "Advanced Jibe"
- How to perform your jybes in the most controlled and elegant manner, with the most effective technique "suspending" with advanced kite control.
- How to down-loop your kite to fly it over into the other side of the wind window, to add even more control and elegance to the jibe maneuver.
- How to get it right fast and how to look stylish.
Interested to learn more?
Watch the other wave kitesurfing Video Lessons
Lesson 2: How to start wave kitesurfing - turns with the right timing
Lesson 3: Your furst turns with distancing and usage of the entire wind window
Lesson 4: Surfing a wave - backside riding and turns on a wave
Lesson 5: Frontside top-turn
Lesson 6: Frontside top-turn after bottom-turn
Lesson 7: Focus on frontside bottom-turn FREE
Lesson 8: Focus on frontside top-turn FREE
Lesson 9: Backside top-turn after bottom-turn
Lesson 10: How to gybe - basic gybe/jibe FREE
Lesson 11: How to gybe - advanced gybe/jibe

If you purchase our wave kitesurfing tutorial videos you can download all of them (Lessons 1, 2, 3, 4, 5, 6, 7, 8, 9, 10 and 11). Download these videos onto your harddrive or smartphone and view them conveniently during your holidays or on the beach, without the need for an internet connection.