Kitesurfing School

Kitekahunas is a kitesurfing school for beginners and advanced riders. It is located directly at Kitebeach, which is the heart of the best kitesurfing beaches in Blouberg, Cape Town. Kitekahunas has been nominated recently as the best kitesurfing school of South Africa.
Video: Drone-view video of KITEKAHUNAS

best kitesurfing beaches

We focus on two main segments:
For Kitesurfing Beginners:

2-3 weeks Kitesurfing Beginners Crash Course:

This makes beginners within 2-3 weeks a fully independent kitesurfer.

Compared to most other schools, which only focus on the three day standard IKO-curriculum and then leave you alone, we go a big step further: We make you a fully independent kitesurfer!

In particular, we do NOT make false promises to our clients that they can learn kitesurfing within a few days, because it is simply not true. But we give our very best to make you an independent kitesurfer within 2-3 weeks. This is our speciality and only one of the many reasons why we gained our reputation of one of the best kitesurfing schools in the world and the best kitesurfing school in Cape Town and South Africa.

For Kitesurfers:

KITEKAHUNAS Wave Camps:

Wave novices can start wave kitesurfing with us and you will feel comfortable in the waves within a few days. Please note our free wave kitesurfing video course which is the best kitesurfing tutorial available for free.

If you wish, you can participate in our mixed Twin-tip & Wave Kitesurfing Camp. You can decide day-by-day, what you want to do: Freeride/ freestyle kitesurfing on your twin-tip, or wave kitesurfing on the directional wave board.

Proficient wave kitesurfers can enjoy wave kitesurfing and advance their skills, while riding with the pros. Enjoy wave kitesurfing on the best kitesurfing wave downwind passages in the world!

Video Kitesurfing Beginner Lessons and Crash Course

Trailer Video Course KITEKAHUNAS - Learn Wave Kitesurfing
Video: Run-through the best kitesurfing school KITEKAHUNAS
So what can you expect at Kitekahunas? And how does Kitekahunas' kitesurfing school look like inside?
Coming soon ...
About KITEKAHUNAS
Kitekahunas has been established in 2009 by Dr. Wolfram Reiners, who was a competing professional kitesurfer for many years, up to world-cup level. The German Speed Kitesurfing Champion decided to found a school in Cape Town which is known as one of the best kitesurfing locations in the world. He decided to built a school with the aim to be the best kitesurfing school world-wide.
For kitesurfing beginners, Kitekahunas main focus is teaching students, who are really eager to learn this amazing sport. We take our students one step further than other schools, who focus only on the standard three-day-curriculum: Kitekahunas makes you a real independent kitesurfer, so you can safely kitesurf on your own anywhere in the world!
Kitekahunas does not only teach beginner and advanced students on the twin-tip board, but has also built its reputation as the best kitesurfing school to learn wave kitesurfing. Based on our love for wave kitesurfing and to enable you to learn this fantastic version of kitesurfing, Kitekahunas has become a multimedia company over the years, producing its famous wave kitesurfing tutorial videos KITEKAHUNAS – Learn Wave Kitesurfing which are available for free on Youtube. Our videos are known as be the best wave kitesurfing tutorial videos to introduce wave kitesurfing beginners to this field.

KITEKAHUNAS inside
The Location
We are in Tableview, at the centre of all kitesurfing beaches, and approximately 16 kilometers from the city centre of Cape Town. Tableview is best known for its great wind, and the amazing view of the famous Table Mountain. Tableview features a number of bars, restaurants, and other amenities. Bars include The Boardhouse (the home of KITEKAHUNAS), Pakalolo, The Royal Oak, and a few others. Restaurants within a walking distance from KITEKAHUNAS include Homespun, Primi Piatti, Catch 22. There are also a number of cafes, such as Morgan's, News Cafe, and Carlucci's. The beach itself is beautiful as well, and you are always just a short walk, short drive or short bus ride away from downtown and the various attractions you can find here.
Meet the KITEKAHUNAS Team
We put our hearts and our souls into our school. And as we work hard every day to stay the best kitesurfing school worldwide, we choose our instructors carefully. All of our instructors are professional kitesurfing instructors, who dedicate their life to this sport. They are certified as IKO or VDWS or BKSA instructors and are highly experienced in teaching kitesurfing to students around the globe. Most of them come from Europe and are able to speak several languages such as English, Spanish, French or German. You can be certain that they are highly motivated and committed to make you an independent kitesurfer and give their very best to get you on the board as fast and safe as possible. It will be a fun experience that you won´t forget! Kitesurfing will change your life. Join us today and discover why we are the best kitesurfing school in the world!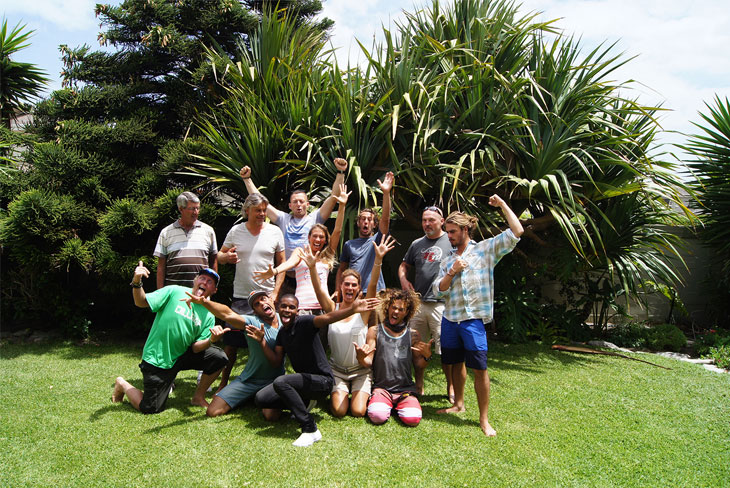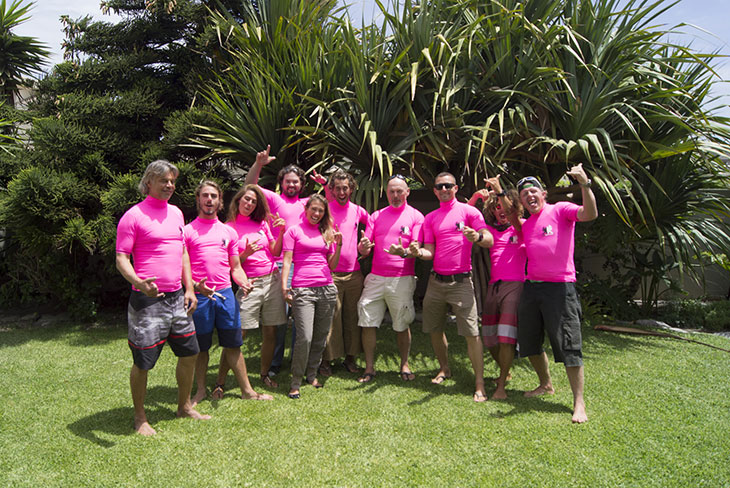 Our kitesurfing instructors in 2017. Our best kitesurfing instructors wears our popular new pink lycras to be more visible on the ocean!


The KITEKAHUNAS Experience
A picture is worth a thousand words! Discover the world of kitesurfing with Kitekahunas through our photo album. It is a compilation of pictures we have taken since 2009. If you have been with us already you can indulge in old memories here. Watch our photos and find out, why Kitekahunas has been recently nominated as the best kitesurfing school in the market! With Kitekahunas you will have the ultimate kitesurfing experience. We make sure that you will have an amazing time, we will find you the best kitesurfing spots in Cape Town with the best wind conditions, best waves and best beaches without having to learn in a crowded place! So just relax and focus on what you want to do: learn kitesurfing or wave kitesurf with the best kitesurfing school in Cape Town, we will take care of the rest!