Kitekahunas - Learn Wave Kitesurfing: Lesson 10
How to gybe: Basic gybe
Why purchase this wave kitesurfing video course
This course will help you to learn and master wave kitesurfing fast. Watch your video lessons before your kitesurfing holidays and before you go on the water. An intermediate freeride kitesurfer is as little as 10 days practice away from being a wave kitesurfer! With these tutorial wave kitesurfing videos ...

... You will learn much faster and then enjoy wave kitesurfing much sooner.

... You will not learn the wrong movements, which are later very difficult to correct and un-learn.

... Importantly, with the right posture and movements, you will look much more stylish on the water.

... People will admire you, and your wave kitesurfing photos and videos in the waves.
Imagine how easily you spend USD 100 or 200 on a week-end out. These are the best wave kitesurfing tutorial videos available, and purchasing this wave kitesurfing video course is an investment for your life-time. Please support yourself and us, so we can produce more of these videos.


KITEKAHUNAS - Learn Wave Kitesurfing. A video course from Kitekahunas on Vimeo.
Rent this Lesson for 1 week for only $ 9.95 or rent all for only $ 99.95. Buy for life-time for $ 199.95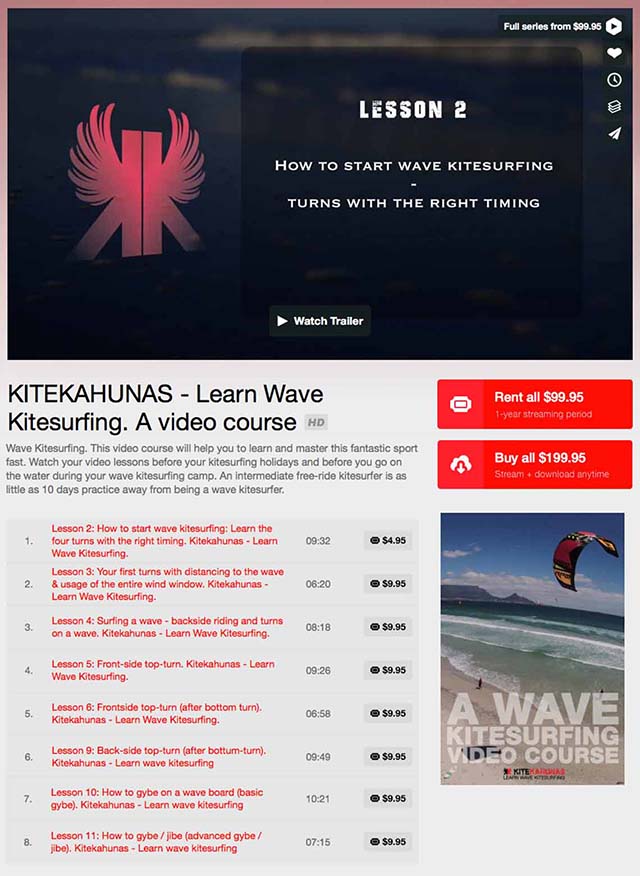 Only for private use. If you want to use it commercially, e.g. in your kitesurfing school, please book it from us >>
What you get when you buy all lessons:
- Stream and download all videos anytime: Lessons 1, 2, 3, 4, 5, 6, 9, 10 and 11
- You will also get all new wave kitesurfing Lessons we will produce in the future
- Watch on TV, laptop, mobile and tablet
- Download ALL Lessons (SD, HD and mobile files) and view them conveniently during your holidays or on the beach, without the need for an internet connection.
What you will learn in this lesson "Basic Gybe"
- Basic gybe. The most basic form, mostly performed with straps.
- How to do it, the do's and don'ts.
- How to get it right fast.
In Lesson 2 you have learned the carving transition to change direction with your directional wave board. After this maneuver, if you went heel-side into the carving turn, you will come out of it in switch, and vice versa. As long as you are wave kitesurfing on a downwinder, you can easily ride in switch, or toe-side, because you don't really have to ride upwind. The few times you want to change from your strong side to your weak side, you can simply change your board around by hand (Lesson 2 - How to start wave kitesurfing - shows you how).

If you can't go on a downwinder, but want to stay at one wave spot, you will have to ride upwind often. During the most enjoyable maneuvers in the waves you will travel fast downwind. So if you are not on a downwinder, you have to ride a considerable distance back upwind, and only then can you enter the waves again. You can effectively ride hard upwind by changing your feet and riding your board in heel-side stance, which is the subject this Lesson will cover. When you turn, you need to ride a swift gybe maneuver and change your feet on the board. You have to perform the gybe quickly, otherwise you travel too far downwind during the gybe maneuver, which would defeat your purpose of going upwind. At the latest when you want to enjoy wave kitesurfing at a wave spot, as opposed to a wave downwinder, you will have an advantage if you are able to gybe.

Learning to gybe with changing your feet is not easy and takes a long time.

You should not make the gybe maneuver your main topic in the beginning of your wave kitesurfing development, but rather enjoy the pleasure of wave kitesurfing on a downwinder first. You will mostly ride on your strong side, but also change over to your weak side every once in a while, because your back leg takes more strain when wave kitesurfing than your front leg and it will get tired faster. But in time you will develop the desire to learn to gybe.

So now, as you have already discovered the great joy of wave kitesurfing, it is time to crack this tough nut, and learn the gybe with changing your feet. It is best you train your gybes first on flat water. Therefore simply make use of your local spot to train your gybes. This Lesson 10 will teach you how to learn to gybe as fast as possible.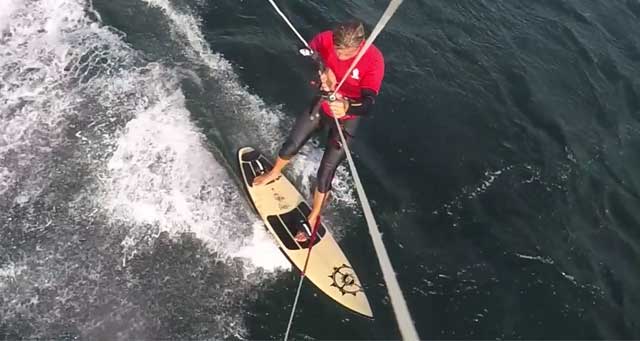 This Lesson will look at everything of the gybe in much detail. We do a step-by-step introduction into this maneuver. We will also look into common mistakes, so you hopefully avoid these from the very beginning. With this you will minimize the time for learning the gybe.


Congratulations. You have just completed your first perfect gybe maneuver.

Lesson 11 will explain to you an advanced method of gybing, in particular how you can gybe most effectively when riding strapless.
Interested to learn more?
Watch the other wave kitesurfing Video Lessons
Lesson 2: How to start wave kitesurfing - turns with the right timing
Lesson 3: Your furst turns with distancing and usage of the entire wind window
Lesson 4: Surfing a wave - backside riding and turns on a wave
Lesson 5: Frontside top-turn
Lesson 6: Frontside top-turn after bottom-turn
Lesson 7: Focus on frontside bottom-turn (not yet available)
Lesson 8: Focus on frontside top-turn (not yet available)
Lesson 9: Backside top-turn after bottom-turn
Lesson 10: How to gybe - basic gybe/jibe
Lesson 11: How to gybe - advanced gybe/jibe

If you purchase our wave kitesurfing tutorial videos you can download all of them (Lessons 1, 2, 3, 4, 5, 6, 9, 10 and 11). Download these videos onto your harddrive or smartphone and view them conveniently during your holidays or on the beach, without the need for an internet connection.