Wave Kitesurfing Camp
Cape Town, South Africa
You want to go wave kitesurfing in and around Cape Town / South Africa but you don't want to have the hassle to arrange the transport from wave downwinders or to the various wave kitesurfing spots that Cape Town has to offer? Or you are a freeride kitesurfer and want to learn wave kitesurfing?
And you want to rely on our local knowledge and instinct, of course, when the wind is best and where to find the cleanest waves - instead of sitting on the beach and waiting for wind, or go to the wrong location and then miss the best conditions somewhere else?
Then the KITEKAHUNAS Wave Camp is right for you.
An unforgettable experience for one or two weeks of wave kitesurfing. Accommodation and transport from downwinders included. So you get complete peace of mind. All our water sessions are guided by an experienced wave kitesurfer to inspire you. The Wave Camp is not a course, but during the Wave Camp you can take lessons with an instructor, if you need or want it.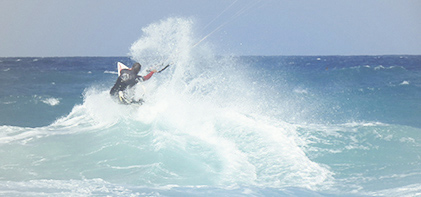 The wave kitesurfing camp is suitable for
- Experienced wave kitesurfers, who do not want to sit and spend time to plan and organise transport to wave spots or from downwinders in their holiday, but who simply want to enjoy their holiday with as much hassle-free and great wave kitesurfing as possible. Wave kitesurfers who don't want to sit and wait for wind, but rely on our instinct and local knowledge, where and when to find best wind and waves. Complete convenience. At least one experienced wave kitesurfer will always be on the wave camp to give you some inspiration on riding styles.
- Novice wave kitesurfers, who want to learn wave kitesurfing, initially possibly on your twintip kiteboard and later on a directional wave board. Progress is usually fast and after 2-5 days of tuition or training most people will feel absolutely comfortable on the directional board in Cape Town's famous waves.
You can also do freestyle/freeride with your twin-tip board on the KITEKAHUNAS Wave Camp downwinders (and take lessons, such as on course level C, learning to jump, course D rotation jumps and jumped transitions, or F/G advanced and unhooked tricks).
Kitesurfing Wave Camp from kitekahunas on Vimeo.
Why wave kitesurfing is becoming more and more popular
More and more kitesurfers switch over to wave kitesurfing. There are three reasons for this:
- First, wave kitesurfing produces much less injuries and is much softer on your bones and joints.
- Secondly, wave kitesurfing is even more fun than freeride or freestyle, and produces the feeling of being stoked and full of adrenaline.
- Thirdly, the learning curve is much steeper than with freestyle kitesurfing and even wave beginners after a few days will feel comfortable in the waves. Prerequisites for beginners to start wave kitesurfing: You should be able to ride very comfortably with your twintip board, toeside riding and maybe do small jumps.
Why wave kitesurfing is better on downwinders
During the KITEKAHUNAS Wave Camps we preferrably go on downwinders. We are blessed here with our world-class downwind passage from Sunset Beach till Doodles Beach or Haakgat or even longer. Shorter downwind passages are 6km, longer ones are up to 20km. Wave riding downwind is much easier and more fun than riding at one wave spot, because you don't have to ride upwind all the time, and be able to jibe to do this (which is quite difficult to learn and it takes often a long time of practice). Also you get into a "flow experience". So wave kitesurfing is much more fun on downwinders. Like skiing without having to walk back up the mountain. And learning wave kitesurfing is much easier on downwinders. To be able to do downwinders, you obviously need transport back, and we organise and provide this for you.
TOP 10 questions and answers about wave kiteboarding. Originally published by the Kiteboarder Magazine in 2010. Worth to read >>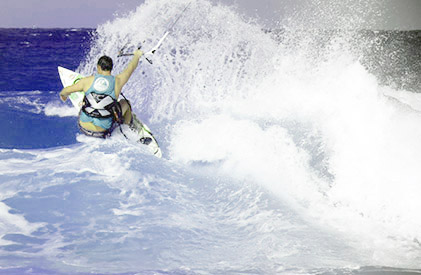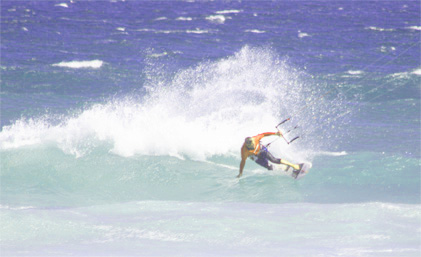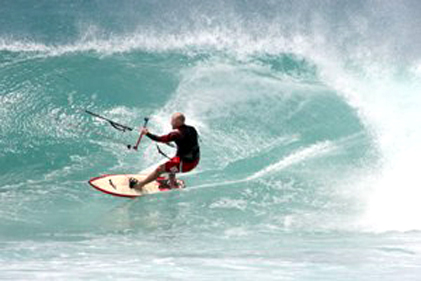 Accommodation
Option 1: In the holiday apartments of the Kitekahunas Beach House right on Sunset Beach. Sharing (2 people per apartment, or if you are lucky, you'll have the apartment for yourself)
Option 2: In one of our neighbour Luxury Kitesurfing Guest Houses. Directly on the beach and next to the Kitekahunas Beach House. Some of them have rooms with Ocean view.
Duration
13 nights of accommodation and 11 days of wave kitesurfing (on wind days only). Or the short version: 6 nights and 6 days of wave kitesurfing (on wind days only). Cape Town has 70-90% of wind days and sometimes we travel to find wind to increase this statistic.
Activities
Wave kitesurfing, wave kitesurfing and wave kitesurfing in some of the best wave spots and wave downwind passages of the world!
During the KITEKAHUNAS Wave Camp, on no wind days, you will have the opportunity to do a safari to view the "Big Five", you can try paragliding tandem flights, you can do wakeboarding, do a guided city tour in Cape Town, visit a wine farm, or visit famous Cape Point and Cape of Good Hope. These activities are not included in the Wave Camp price.
Lessons - if you think you need it
2 hours package, 10 hours and 20 hours package of intensive Wave Kitesurfing Lessons to introduce you into wave kitesurfing, the directional wave board, or to improve your wave kitesurfing skills. You may want to do this rather at the beginning of the Wave Camp and then from time to time. Lessons happen during the Wave Camp (you will get a radio-helmet).
The KITEKAHUNAS WAVE CAMP includes
- Accommodation, in our holiday apartments directly on the beach, or in a Luxury Guesthouse nearby
- Guidance and supervision from an experienced wave kitesurfer or wave kitesurfing instructor with local knowledge, so you will find more wind and better wind than without guidance, and the cleanest and best waves
- Some form of safety on the water, somebody will be with you, if something goes wrong
- And transfer from downwinders or to/from wave kitesurfing spots, which will give you peace of mind and you will save on car rentals and hassles (long-distance travel is not included).
PRICES FOR THE KITEKAHUNAS WAVE CAMP
With accommodation at the KITEKAHUNAS Beach House, sharing (2 people per apartment, or if you are lucky you'll have it for yourself), directly on the beach:
| | |
| --- | --- |
| 11 days / 13 nights, double room sharing | EUR 999,- |
| 6 days / 6 nights, double room sharing | EUR 549,- |
Wave Campe only, no accommodation:
| | |
| --- | --- |
| 11 days (on wind days) no accommodation | EUR 560,- |
| 6 days (on wind days) no accommodation | EUR 340,- |
With accommodation at a Luxury Kitesurfing Guest House. Directly on the beach and next to the Kitekahunas Beach House, often with sea view:.
| | |
| --- | --- |
| 11 days / 13 nights, double room sharing | EUR 1449,- |
| 11 days / 13 nights, single room | EUR 1799,- |
| 6 days / 6 nights, double room sharing | EUR 799,- |
| 6 days / 6 nights, single room | EUR 849,- |
All prices are per person. The prices exclude flight, airport transfer (about EUR 20-30), food, equipment and any optional other activities or optional extras.
OPTIONAL EXTRAS
| | |
| --- | --- |
| Lessons in Wave Kitesurfing, beginners or advanced, 2 hours | EUR 79,- |
| Lessons in Wave Kitesurfing, beginners or advanced, 10 hours package | EUR 340,- |
| Lessons in Wave Kitesurfing, beginners or advanced, 20 hours package | EUR 590,- |
| Directional wave board rental, 1 week | EUR 160,- |
| Directional wave board rental, 2 weeks | EUR 260,- |
| Directional wave board purchase with buy-back option after the kitesurfing wave camp | available |
| Transport to Langebaan or Strand for lessons in flat water (e.g. to train some hot turns) | EUR 30,- |
Dates of the KITEKAHUNAS Wave Camps
Please find the dates of our wave camps in our kitesurfing course table >>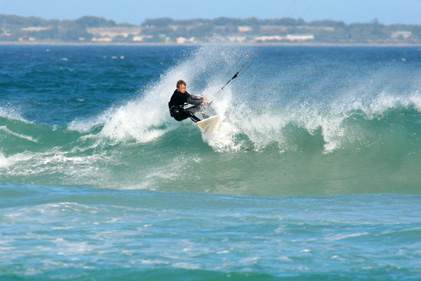 Please find the dates of our wave camps in our kitesurfing course table >>

The KITEKAHUNAS Wave Camp
in and around Cape Town, South Africa