Kitesurfing accommodation Cape Town
for your Kitesurfing holiday
in Blouberg - Table View - Sunset Beach - Big Bay
You can book accomodation in the following guest houses, all equipped for kitesurfers, either stand-alone or in addition to your course:
- Kitesurfing Beginner Lessons - Beginners Course in Modules A+B+C+D. Become a real kitesurfer from zero to hero in two to three weeks.
- Wave Kitesurfing Course - New to wave kitesurfing? No problem, you start with your twin-tip board and learn riding a directional wave board. Learn wave kitesurfing on downwinders from the leaders in wave kitesurfing education.
- KITEKAHUNAS Wave Camp - pure wave kitesurfing pleasure for 1, 2 or 3 weeks including guidance and transport from downwinders.
Should I stay in Table View or in Sunset Beach?
KITEKAHUNAS Advanced Kitesurfing School is in luxurious and safe Sunset Beach. TableView is quite crowded (and unsafe at night). Sunset Beach is much better, here it is also perfect to start downwinders from Sunset Beach to go to Tableview and beyond. Stay in our NEW KITE VILLA - the ultimate KITESURFING GUESTHOUSE. Stay together and enjoy your holidays with other kitesurfers. Luxury guesthouse with swimming pool 50 meters from the beach. You do not need a car. Restaurants and the City Bus station is in walking distance.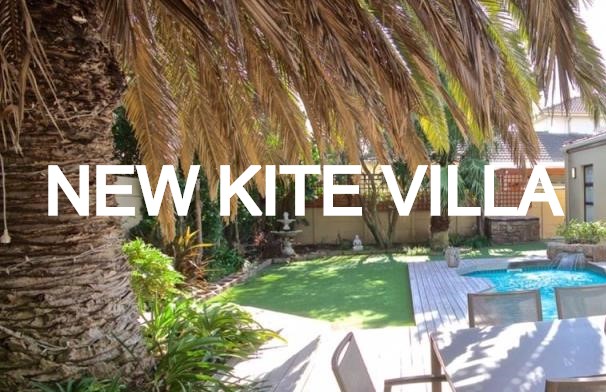 Enquiries and bookings for the KITE VILLA - Kitesurfing Guesthouse >>
Other accommodations, should the KITE VILLA be fully booked:
3. Kitesurfing Hostel Table View

Budget rooms in kitesurfer guest house. Rooms sleep 1 or 2
Table View

Per room per night
From EUR 56
Self-catering


4. Kitesurfing Guesthouse Table View

Budget rooms in guest house. Rooms sleep 1 or 2
Table View

Per room per night
From EUR 65
per person
Including breakfast.


5. Kitesurfing Villa Sunset Beach

Very nice 4 star Villa
Luxury rooms, Deluxe rooms and Junior suites (1 or 2 people)
150m to the beach
Sunset Beach

Per room per night
From EUR 62 1st Oct-13th Dec
From EUR 92 13th Jan-30th Apr
Higher prices 14th Dec - 12th Jan
Including breakfast.
Directly on the beach
Apartments with Ocean view
5 different apartments.
Sunset Beach

Per apartment per night
From EUR 90 - EUR 175
Self-catering

8. Kitesurfing Rooms Sunset Beach

4 star kitesurfing guesthouse in walking distance to the beach. Modern and comfortable apartments with kitchenette. Apartments for 2 and 4 people.
Sunset Beach

Per apartment per night
From EUR 70 per person.
Higher prices 24th Dec - 10th Jan
Self-catering

9. Kitesurfing Accommodation Blouberg

Guests have the choice of several double rooms and 4-bed rooms. The house is situated at the Flamingo Vlei and is not even 5 minutes away from Blouberg / Table View.


Prices per night:
double room EUR 60, in a room for 4 people sharing EUR 20 per person, apartment from EUR 70, self-catering
10. Kitesurfing B&B Cape Town

This is the ideal place to stay for kitesurfers and holidaymakers alike.
Flamingo Vlei

Prices: during high season (Oct-April): From EUR 45 per person sharing, single rate from EUR 60, self-catering.
.
11. Kitesurfing Self-Catering Cape Town

Feel at home in this luxury backpackers bed and breakfast accommodation, located in the kite surfing paradise of South Africa, Blouberg - Table View.


Communal bed per night
From EUR 25
Private room per night
From EUR 59,
Including breakfast. 500m from the beach.