Kitesurfing Downwind Camp - Freeride
Cape Town, South Africa
Supervision and Coaching for advanced Beginner Kitesurfers
Summary:
- Supervision and coaching for advanced beginner kitesurfers.
- On wind days 3-5 hours on the water (expect 70-90% wind days).
- Prerequisites: Able to ride upwind (otherwise please book course B).
- Equipment not included. Possibility for rental or purchase at best prices.
- We go on downwinders whenever we can.
- On downwinders you learn fast, because you have lots of net board time.
- Included: 2h safety lesson. Constant coaching with video feedback.
- Optional: Private lessons with radio to advance your kitesurfing.
- Price from EUR 469.
Are you a freeride kitesurfer and you think Cape Town's kitesurfing conditions are rather demanding? So you are looking for some handholding, supervision, added safety and coaching on the water, to get comfortable with Cape Town's condtions? You want to get away from crowded kitesurfing beaches and rather enjoy downwinders? You want to improve your kitesurfing skills and possibly get some lessons? Or you would like to go kitesurfing with your partner or friend, who is on a higher level than you are and possibly he/she participates in a KITEKAHUNAS Wave Camp but you want to kite together?
Then the KITEKAHUNAS Downwind Camp Freeride is right for you!
And do you want to rely on our local knowledge and instinct, of course, when the wind is best and where to find the best conditions - instead of sitting on the beach and waiting for wind, or go to the wrong location and then miss the best conditions somewhere else? Rather kite with us and don't waste time, and use this free time to enjoy the hundreds of attractions Cape Town has to offer besides kitesurfing.
An unforgettable experience for one, two or three weeks of freeride downwind kitesurfing. Kitesurfing sessions on downwinders along Cape Towns most beautiful coast line, away from crowded kite beaches. Accommodation, guidance and transport to/ from downwinders included. So you get complete peace of mind. All our water sessions are guided by an experienced kitesurfing instructor to inspire you. A package of two hours foundational lessons is included (lessons package on safety when kitesurfing, and a briefing on the kitesurfing spots we visit). Our Camps further include constant coaching and video feedback, also photos and videos about yourself for you to take home. Further, you can book private lessons during the Camp.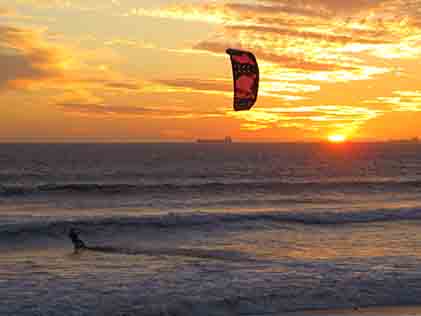 The DOWNWIND kitesurfing camp is suitable for
all intermediate and late beginner kitesurfers who can ride upwind (and who might already be able to do their first jumps) and who want to improve their kitesurfing skills. In particular kitesurfers who want to learn to cope with Cape Town's often challenging conditions. Kitesurfers who want to enjoy their holiday with as much hassle-free and great kitesurfing as possible. Kitesurfers who don't want to sit and wait for wind, but rely on our instinct and local knowledge, where and when to find best wind and how to deal with waves. Complete convenience. At least one experienced kitesurfer will always be on the Downwind Camp to give you some inspiration on your riding style or to give you formal lessons.
You will be able to practice your skills or some new tricks along the beautiful coast line of Cape Town while going downwind. Practice riding, toeside riding, carved transitions and jumping, while you ride outside of the shorebreak zone and practice and enjoy the flat water there.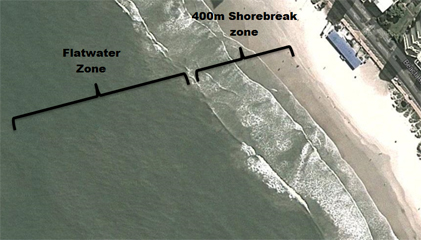 Lessons are available during the Downwind Camps with our experienced intructors. Take lessons on different course levels, as for example on course level C, learning to jump, course D rotation jumps and jumped transitions, or F/G advanced and unhooked tricks.
Lessons will be taught during the downwinders with helmets and radios, for instant feedback and a steep learning curve.
If your partner or friend wants to be in the waves, and wants to do a Wave Camp with us, you can do the Downwind Camp Freeride and you will be most of the time together on the same downwinder.
Why FREERIDE kitesurfing is better on downwinders and why you learn new tricks much faster on downwinders

During the KITEKAHUNAS Freeride Downwind Camps we preferrably go on downwinders. Freeride kitesurfing on downwinders is much more fun than staying on one spot. For a couple of reasons. You can concentrate on improving your kitesurfing, so for instance concentrate on learning to pop or to jump, or learning new tricks, etc. While you are doing this you will go quite a bit downwind, with every trick. If you stay on one spot, you will have to spend most of the time, 50 minutes out of 1 hour, with riding upwind, instead of spending your time on what you actually want to learn. If you are on a downwinder, you can concentrate 60 minutes out of 1 hour on practicing your new trick, without worrying about riding back upwind all the time. So the learning curve is much faster on a downwinder

Going downwind will also lead you to different spots with varying scenaries and views, away from crowded beaches with hundreds of kitesurfers. So it is much safer when practicing new tricks "away from the traffic and crowded kite beaches". Furthermore, there is no need for big kites if you are going downwind, your small kite will already have enough power. So freeride kitesurfing is much more fun. Like skiing without having to walk back up the mountain all the time. To be able to do downwinders, you obviously need transport back by car or minibus, and we organize and provide this for you.

We are blessed here with our world-class downwind passage from Sunset Beach till Doodles Beach or Haakgat or even longer. Shorter downwind passages are 6km, longer ones are up to 20km.

ACCOMMODATION

You can choose your accommodation. Either luxury guest houses directly on the beach (mostly in Sunset Beach, some rooms with Ocean View) or standard guest houses or hostels (mostly in Table View). Have a look here: Kitesurfing accommodations Cape Town.

DURATION

14 days of kitesurfing (on wind days). Or the short version: 7 days of kitesurfing (on wind days). Or the long version: 21 days. In Cape Town please expect 70-90% wind days (October-March) and sometimes we travel to find wind to increase this statistic.

Activities

Kitesurfing, kitesurfing and kitesurfing on one of the best downwind passages of the world!

During the KITEKAHUNAS Downwind Camp Freeride, on no-wind days, you will have the opportunity to do a safari to view the "Big Five", you can try paragliding tandem flights, you can do wakeboarding, do a guided city tour in Cape Town, visit a wine farm, or visit famous Cape Point and Cape of Good Hope. More information is here. These activities are not included in the Downwind Camp price.

Lessons - if you think you need it

6 hours, 12 hours or 18 hours package of intensive, private kitesurfing lessons, to help you to successfully cope with Cape Town's rather demanding conditions or to improve your kitesurfing skills and learn new tricks. You may want to take the kitesurfing lessons rather at the beginning of the Downwind Camp, and then you can practice and then from time to time take lessons again. Lessons are with radio communication. Our kitesurfing lessons specialize on improving your riding skills according to our different levels: course level C, learning to jump, course D rotation jumps and jumped transitions, or F/G advanced and unhooked tricks.

The KITEKAHUNAS DOWNWND CAMP includes

- Accommodation, if you book it, either in Table View or Sunset Beach (details please see below).

- A packacke of two hours foundational lessons is included: two hours of safety briefing, introduction to the wave spots we visit, and briefing on potential hazards during the downwinders.

- Constant coaching and video- and photo feedback. All photos and videos of you you can take home.

- Guidance and supervision from an experienced kitesurfer or instructor with local knowledge, so you will find more wind and better wind and better conditions than without guidance.

- Some form of safety on the water, somebody will be with you, if something goes wrong (but no guaranteed rescue service).

- And transfer from downwinders, which will give you peace of mind and you will save on car rentals and hassles (long-distance travel, for instance if we need to travel to find wind, is not included).

PRICES FOR THE KITEKAHUNAS Downwind CAMP

At KITEKAHUNAS we put Customer service and your experience first.
All our Camps include constant coaching and video feedback.

14 days (on wind days), including 2 hours of foundational lesson package, and coaching with photos and video feedback. Excluding accommodation.

EUR 669

7 days (on wind days), including 2 hours of foundational lesson package and coaching with photo and video feedback. Excluding accommodation.

EUR 469

1 day including 2 hours of foundational lesson package and coaching with photo and video feedback. Excluding accommodation.

Returning Customers can skip the 2 hours lesson package.

EUR 140

MINUS EUR 70

Prices over mid December till beginning of January attract a surcharge.

You can choose your accommodation. Either luxury guest houses directly on the beach (mostly in Sunset Beach, some rooms with Ocean view) or standard guest houses or hostels (mostly in Table View). Have a look here: Kitesurfing accommodations Cape Town.

All prices are per person. The prices exclude flight, airport transfer (about EUR 20-30), food, equipment and any optional other activities or extras.

OPTIONAL EXTRAS

| | |
| --- | --- |
| Private lessons in Kitesurfing, advanced. 6 hours package. With radio communication. | EUR 199 |
| Private lessons in Kitesurfing, advanced. 12 hours package. With radio communication. | EUR 379 |
| Private lessons in Kitesurfing, advanced. 18 hours package. With radio communication. | EUR 549 |

Dates of the KITEKAHUNAS DOWNWIND Camps FREERIDE

Please find the dates of our Downwind Camps in our course table >>

The KITEKAHUNAS Downwind Camp Freeride
in and around Cape Town, South Africa

You need new kites & equipment?

Take advantage of the unbeatablY low prices for kites in south africa for slingshot kites.

Change over to the Slingshot RPM, the best kite in the world, or the Slingshot Wave SST kite, if you need to change your kites quiver. Sell your kites at home before you travel to South Africa and order from us beforehand. On arrival your new kites will wait for you. You will save up to 30-40% and let your savings pay for your kitesurfing holiday in Cape Town, South Africa - the world's capital of kitesurfing. Combine your kitesurfing holiday with watching the Red Bull King of the Air or other top-class kitesurfing events in Cape Town. Take advantage of cheap Slingshot RPM or other kites.

Send an email to