Wave Kitesurfing Beginners: Mixed Twin-tip and Wave Kitesurfing Camp
In Cape Town, South Africa. The world's wave kitesurfing capital
Summary:
- Mixed Twin-tip and Wave Camp: 1 week, 2 weeks or 3 weeks
- On wind days 3-5 hours on the water (expect 70-90% wind days).
- Prerequisites: Able to kitesurf and to ride upwind.
- Equipment not included. Possibility for rental or purchase at best prices.
- We go on downwinders whenever we can.
- On the ocean in Cape Town on the world's best downwind passages.
- You learn new tricks on your twin-tip and first steps on the wave board.
- Included: 2h safety lesson. Constant coaching with video feedback.
- Optional: Private lessons with radio to advance your kitesurfing.
- Price from EUR 469.
New: Our wave kitesurfing courses for wave newcomers. Everthing was improved: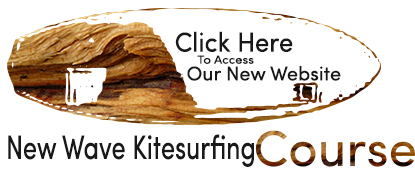 Below is the outdated information, describing our old mixed Wave Camps.
You are an intermediate kitesurfer (freeride or freestyle) and you enjoy riding your twin-tip board. You can ride upwind. Maybe you can already ride a little bit toeside and maybe you have started to try your first small jumps, or more? You want to both progress on your twin-tip board and you are interested to learn wave kitesurfing?
Possibly you have already seen our Wave Kitesurfing Video Course and you are interested, but you are not sure yet. In particular you don't want to spoil your kitesurfing holiday, should it turn out that wave kitesurfing is not your favourite thing. So you want to stay flexible and go on your twin-tip board, whenever you like, but you also want to try out the directional wave board. And then you want to decide day-by-day, what to do on the camp: Either ride your twin-tip and enjoy Cape Town's solid wind, and possibly enter the world of big jumps, or continue to learn wave kitesurfing. You can start on your twin-tip board and later try out to switch over to the directional wave board and get coaching to the films KITEKAHUNAS - Learn Wave Kitesurfing.
Then the mixed Twin-tip and Wave Kitesurfing Camp is right for you.
So don't worry. On the Mixed Twin-tip and Wave Kitesurfing Camp you stay flexible and you can decide day-by-day what to do, also depending on the conditions. When the waves are clean and small, you probably want to progress your wave kitesurfing. When the conditions are rough, you may want to go back to what you are used to: your twin-tip board.
Further you want to rely on our local knowledge and instinct, when and where to find the best wind and the cleanest waves? - Instead of going to the wrong location and then miss the best conditions, or sitting enlessly on the beach and waiting for wind?
The mixed Twin-tip and Wave Kitesurfing Camp:
An unforgettable experience for one, two or three weeks of freeride or freestyle kitesurfing on your twin-tip, combined with wave kitesurfing on the directional wave board. Accommodation, guidance and transport back from downwinders included. So you get complete peace of mind.
All our water sessions are guided by an experienced freestyle kitesurfer and wave kitesurfer to inspire you. A package of two hours foundational lessons is included (lessons package on safety when kitesurfing, and a briefing on the wave spots we visit). Our Camps further include constant coaching and video feedback, also photos and videos about yourself for you to take home. Further, you can book intensive, private lessons during the mixed Twin-Tip & Wave Camp.
Trailer to the Video Course KITEKAHUNAS - Learn Wave Kitesurfing
The Mixed Twin-Tip and wave kitesurfing camp is suitable for
- Advanced beginner kitesurfers or intermediate kitesurfers, who can ride a twin-tip board, who can safely ride upwind and who have possibly started to learn their first tricks. Who want to learn more tricks on their twin-tip board, most easily done on downwinders. And who want to try their first steps into the magic of wave kitesurfing, and who want to start to learn kitesurf in waves. Kitesurfers who simply want to enjoy their holiday with as much hassle-free and great kitesurfing and wave kitesurfing as possible, with like-minded kitesurfers. Kitesurfers who don't want to sit and wait for wind (instead of visiting one of the hundreds of other attractions during the windless hours of their kitesurfing trip, which Cape Town has to offer), but rely on our instinct and local knowledge, where and when to find best wind and cleanest waves. Complete convenience. At least one experienced freestyle and wave kitesurfer will always be on the camp to give you some inspiration on riding styles.
For wave novices we have developed a curriculum to teach wave kitesurfing on downwinders within 10 days - from first steps to the thrill of riding the first wave with straps or strapless. After your two hours foundational lessons package (which is included), we recommend 6h or 12h or 18h of further lessons. Lessons will increase your learning curve dramatically (details below). You can also take freestyle kitesurfing lessons.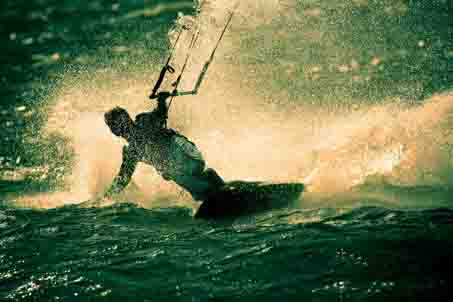 Why wave kitesurfing is becoming more and more popular
More and more kitesurfers switch over to wave kitesurfing. The reasons:
- First, wave kitesurfing results in much less injuries and is much softer on your bones and joints.
- Secondly, wave kitesurfing is even more fun than freeride or freestyle, and produces the feeling of being stoked and being full of adrenaline.
- Thirdly, the learning curve is much steeper than with freestyle kitesurfing and even wave beginners will feel comfortable after a few days in the waves. Prerequisites for beginners to start wave kitesurfing: You should be able to ride comfortably with your twintip board, toeside riding and maybe do small jumps.
Why PROGRESS IN FREESTYLE KITESURFING AND IN wave kitesurfing is better AND MUCH FASTER on downwinders
During the Mixed Twin-tip and Wave Kitesurfing Camp we preferrably go on downwinders. It is much easier to learn new freestyly tricks and wave riding when going downwind and much more fun than riding at one spot, because you don't have to ride upwind all the time.
On the directional wave board, if you stay at one spot, you would need to be able to jibe, which is quite difficult to learn and it takes often a long time to practice. No jibing is necessary on downwinders, so you will have fun right away from day 1. Also on a downwinder you get much easier into a "flow experience", as your wave riding is not constantly interrupted by having to ride back upwind. Further, on the downwinders we are able to find areas with few other kitesurfers, so that you can kite with lower risks, which crowded kitesurfing beaches unfortunately bring. Our downwinders are a luxury / premium-service.
Kitesurfing and wave kitesurfing is much more fun on downwinders. Like skiing without constantly having to walk back up the mountain. And thus, learning wave kitesurfing is much faster on downwinders. For downwinders you obviously need transport back and we organise and provide this for you.
We are blessed here with our world-class downwind passages from Sunset Beach till Doodles Beach or Haakgat or even longer. Shorter downwind passages are 5km, longer ones are up to 20km.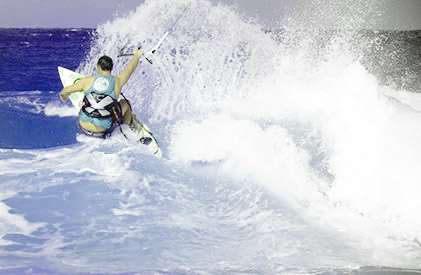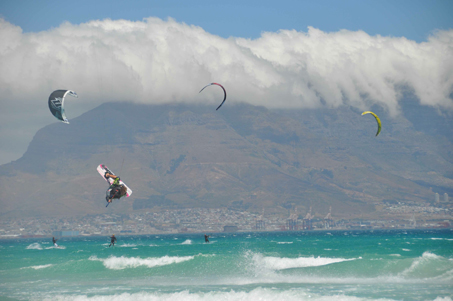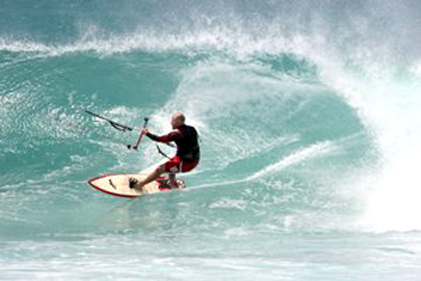 On the page for KITEKAHUNAS Wave Kitesurfing Camps (quite far down) you will find all information about:


ACCOMMODATION

DURATION

ACTIVITIES

Lessons - if you want to progress fast

WHAT THE KITEKAHUNAS MIXED TWIN-TIP AND WAVE CAMP includes

PRICES FOR THE MIXED TWIN-TIP AND WAVE CAMP
Dates of the MIXED TWIN-TIP AND WAVE CAMPS
Please find the dates of our wave camps in our kitesurfing course table >>

The KITEKAHUNAS Mixed Twin-tip and Wave Camp
in and around Cape Town, South Africa
You need new kites & equipment?
Take advantage of the unbeatablY low prices for kites in south africa for slingshot kites.
Change over to the Slingshot RPM, the best kite in the world, or the Slingshot Wave SST kite, if you need to change your kites quiver. Sell your kites at home before you travel to South Africa and order from us beforehand. On arrival your new kites will wait for you. You will save up to 30-40% and let your savings pay for your kitesurfing holiday in Cape Town, South Africa - the world's capital of kitesurfing. Combine your kitesurfing holiday with watching the Red Bull King of the Air or other top-class kitesurfing events in Cape Town. Take advantage of cheap Slingshot RPM or other kites.
Send an email to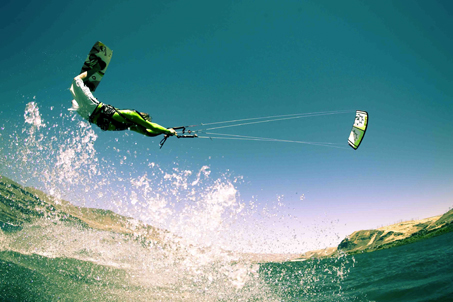 Please find the dates of our wave camps in our kitesurfing course table >>

The KITEKAHUNAS Wave Camp
in and around Cape Town, South Africa