Kitesurfing holidays in South Africa
The holiday apartments at Kitekahunas Beach House in Sunset Beach
Have the most memorable kitesurfing holidays in beautiful Cape Town, South Africa, directly on the beach - filled with sun, fun, wind and water.
Stay at the beautiful KITEKAHUNAS Beach House, located directly on Sunset Beach / Cape Town. You will walk 50 meters to one of the most scenic kitesurfing beaches in the world, looking on famous Table Mountain. The center of Cape Town is a mere 10 minutes drive away. Make use of inexpensive car rental in Cape Town during your kitesurfing holidays to get there in the evening or use the City Bus (700m walk). You will get a rented car often for less than 20 Euro per day.
The holiday apartments in the KITEKAHUNAS Beach house are usually for special ktiesurfing Guests of Slingshot South Africa, but when we have availability, also Wave Camp participants of KITEKAHUNAS or kitesurfing course students can stay here.
SS logo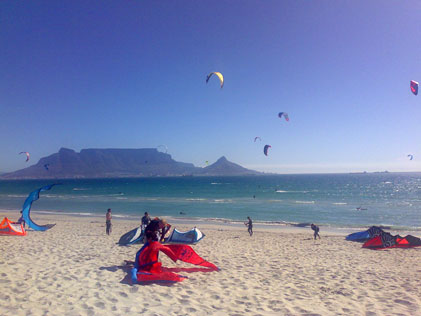 Kiteboarders at Sunset Beach
In the beautiful KITEKAHUNAS Beach House we have two appartments with separate entrance, equipped with a large bathroom, kitchenette with microwave (no cooking plates), TV for DVD, WLAN and Internet and one apartment with its own little private lounge. Both apartments are self-catering - all rooms are equipped with a fridge and microwave - there is Woolworth with microwave dishes in Sunset Beach, or even better, you visit the many superb and inexpensive restaurants in Cape Town, Sunset Beach or Table View.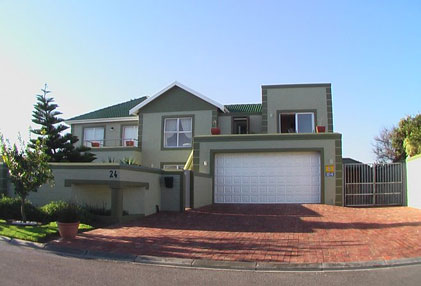 KITEKAHUNAS Beach House
In the morning after breakfast we will start the kitesurfing courses. We will walk to the beach from the KITEKAHUNAS Beach House or drive by van to one of the many superb kitesurfing spots that Cape Town has to offer. We have more than 30 superb kitesurfing spots in Cape Town with very different conditions - flat water, small waves, high waves, cool water, warm water, ... When we are back, there will be plenty of time to do further individual kiting, or you do a half-day trip to one of the many attractions of Cape Town. In the evenings we also analyze photos and videos about you (optional), prepare with video-learning or mental training for the lessons during the next day, or simply chill out at the KITEKAHUNAS Beach House or in Cape Town's nightlife to make your kitesurfing holidays an unforgettable experience.
Please note: We are a sports school and we have a strict non-smoking policy in the house and on our ground.