Kitesurfing in Cumbuco / Brazil:
Descriptions about Location Cumbuco
Cumbuco is one of the premier kitesurfing destinations in the world. The wind is very reliable in August, September and October and blowing almost every day (95%) with moderate wind speed. This makes Cumbuco ideal for all levels of kitesurfing. The wind is normally between 18 and 25 knots in Cumbuco, and is always from the South East – which is cross-shore.
The climate in Cumbuco is perfect, the sea temperature is around 26 degrees Celsius and the air temperature is around 28 degrees Celsius – making this small fishing village a paradise for kitesurfers. You don't even need a wet suit.
Brazil has mostly flat, warm water. The conditions on Cumbuco beach are very easy, there is a small shore dump wave, and then just gentle swell, perfect for learning, improving and busting serious freestyle moves.
You can kitesurf down wind from Cumbuco to the Lagoa Cauipe, which is 5km away. This is a fun downwinder and then you can play on the lagoon, which has totally butter flat water and is knee to waist high – we are then arranging a lift back in a buggy.
Kitekahunas Team and all course participants live together 50m from the beach. In the morning after breakfast we simply walk down to the beach to start our advanced kitesurfing courses in Cumbuco or your KITEWISE - GUIDED & SAFE KITESURFING.
IMPORTANT: For you travel arrangements to Cumbuco, please contact our preferred travel agent EARLY - flights are usually booked out or very expensive after June or July!
Hajo Siewer South America Flights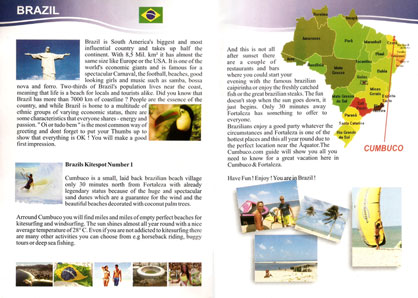 > click to enlarge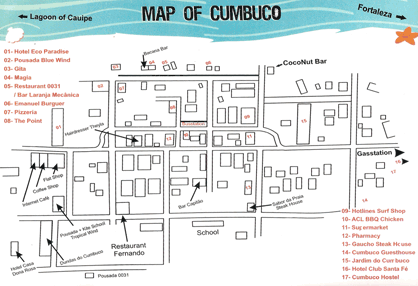 > click to enlarge