Kitesurfing with
WHAT WE OFFER: KITEKAHUNAS Wave Camps - pure wave kitesurfing pleasure for 2 or 3 weeks including guidance, coaching, accommodation and transport from downwinders - a complete holiday package. Wave Camp >>
New to wave kitesurfing? Novices can take a wave kitesurfing course. Start with your twin-tip board and move over to the directional wave board, when you are ready. Wave Course >>
Kitesurfing Beginners, who really want to learn this fantastic sport in a crash course, can book our popular A+B+C+D Kitesurfing Beginner Courses. It will make you a real, fully independent kitesurfer within 2-3 weeks. More information click here for our Kitesurfing Beginner Lessons >>
Accommodation for kitesurfers in the new KITE VILLA - the ultimate kitesurfing guesthouse. Stay together and enjoy your holidays with other kitesurfers. Luxury guesthouse with swimming pool 50 meters from the beach. More information click here for our Kitesurfing Guest House >>

You can do also do freeride/ freestyle kitesurfing with us: learning to jump, rotation tricks, unhooked tricks).
WHO WE ARE: Kitekahunas - Advanced Kitesurfing School - is based directly on the renowned Kite Beach / Cape Town, at the famous Blouberg Beach, South Africa's premier kitesurfing spot. Kitekahunas is undoubtedly one of the best kitesurfing schools in the world. It is directed by German Speed Kitesurfing Champ Wolfram Reiners.
We are proud that KITEKAHUNAS has been selected as the official school to educate professional kite pilots for renewable energy company OCEANERGY. To operate KITE GAS/FUEL SHIPs to combat climate change.
Cape Town is different than most other kitesurfing locations in the world. Kitesurfing in Cape Town is about variety. This is why most of the best professional kitesurfers are in Cape Town during our season. Cape Town offers more than 30 superb kitesurfing beaches with a huge variety of conditions: flat water, world-class downwind passages, small waves, high waves, warm and cool water ... From October till March the wind blows better than anywhere in the world. We visit some of these kitesurfing spots during your kitesurfing course or during the KITEKAHUNAS Wave Camps. You can live in one of the apartments in the beautiful Kitekahunas Beach House directly on the beach or in one of the neighbouring Kitesurfing Accommodations in Cape Town (Table View and Sunset Beach)..
11 reasons why every woman should learn kitesurfing >>
Download an article about kitesurfing in Cape Town >>

Looking for the most unbeatable kitesurfing holiday of a lifetime, in sun filled South Africa with beautiful beaches and Table Mountain in the backdrop? And Cape Town will entertain you with plenty of attractions to visit and beautiful people in a sizzling nightlife.
Download an article about kitesurfing in Cape Town >>

Read what our students say: Their reviews of our Kitekahunas kitesurfing courses and camps >>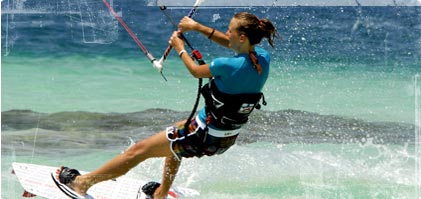 Kitesurfing is a lifestyle…
and this is what we at Kitekahunas promote. Our kitesurfing courses are designed for maximum enjoyment, developing skills in chosen areas - and giving you all the correct tools and guidance to achieve your goals. Student's safety, lesson quality and advanced teaching methods are all part of our approach to getting you kitesurfing to the best of your ability in the safest and most efficient way possible. Courses can include:
and much more…
All courses primary language will be in English, but various languages are supported such as German and Afrikaans.
These benefits you will have with us
Your benefits when booking a beginner or advanced kitesurfing course with Kitekahunas Advanced Kitesurfing School:
Probably the best downwind passages in the world directly from our doorstep: Sunset Beach - Dolphin Beach - Doodles Beach - Big Bay - Haakgat
Small personalized lesson groups of no more than 8 people (KITEKAHUNAS Wave Camps) or 2 people per instructor (Kitesurfing Beginner Lessons)
Advanced teaching methods including the use of radio communication on the water for immediate feedback for fast learning - and video feedback if it makes sense
Intense training approach, supported by friendly, experienced and certificated kitesurfing instructors who are committed to you for the duration of your kitesurfing course
Rubbing shoulders with Kiteboarders and Pro Kiteboarders from all over the world. Cape Town's variety of conditions is what attracts kitesurfers from far and wide. Just the opportunity to sit and watch these riders in action is enough to keep you entertained for hours. Kitekahunas will be frequented by many of these Pro Kiteboarders, and will be the perfect meeting place to connect and network with riders from all over the globe
Visit our Slingshot Shop and Test Centre at KITEKAHUNAS Cape Town. Please note that you can purchase kitesurfing equipment very inexpensive with us, while you are in South Africa. For Slingshot kites you save up to 30% as compared to Europe! You get 14% VAT back at the airport, when leaving South Africa. So if you need to purchase equipment or change your kite quiver, your savings will pay for your kitesurfing holiday or KITEKAHUNAS wave camp or freeride/freestyle camp. Please ask or our 2-page-info-sheet about equipment.


Please note when reading the windforecast for Cape Town:
Windfinder does not take local jet effects into account. 13 kn are about 20 kn in reality and if windfinder predicts 20 kn the the wind will blow with 30+ kn.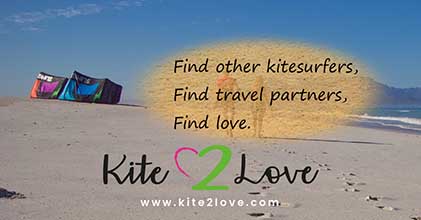 KITEKAHUNAS has been selected as the official school to educate professional kite pilots for renewable energy company OCEANERGY. To operate KITE GAS/FUEL SHIPs to save the world's climate.